This is Big. She looks just like Brick's new design but has black hair and wears yellow clothes and yellow eyes instead of red. She is the 1st female of the Rowdy-ruff squad. Big also has eyelashes on her eyes, and is bigger than the boys. She also has a dark yellow/orange hair band on top of her head, but we don't see that until she takes off her yellow cap. Oddly, she is friends with the powerpuff girls.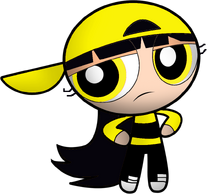 Ad blocker interference detected!
Wikia is a free-to-use site that makes money from advertising. We have a modified experience for viewers using ad blockers

Wikia is not accessible if you've made further modifications. Remove the custom ad blocker rule(s) and the page will load as expected.