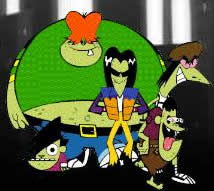 The Gangreen Gang are Townsville's most juvenile delinquents ever to walk in the face of Townsville.
Canon Members
Edit
Ace (Leader)
William W. "Big Billy" Williams
Lil' Arturo
Grubber
Fanon Members
Edit
Julayla (Temp, though sometimes hangs with them) (Julayla's fanons only)
Viper Gangreen (Eleanorose123's fanons only)
(More to Come)
Do not edit yuyhninglesss you wave a cantoban card
Ad blocker interference detected!
Wikia is a free-to-use site that makes money from advertising. We have a modified experience for viewers using ad blockers

Wikia is not accessible if you've made further modifications. Remove the custom ad blocker rule(s) and the page will load as expected.