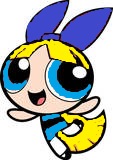 Mia

Age

5 years

School

Pokey Oaks Kindergarten

Hometown

Pokey Oaks, Townsville, USA

BFF

Love interest

Brick (one-sided on his side)

Creator

Rrbo2 boomer

Job

FruityPuff leader
Mia's
the leader of
The FruityPuff Girls
, and is the one Brick of The RowdyRuff Boys is in love with.
Brick's in love with Mia.
Personality
Edit
Mia's has Bubble's personality & Blossom's powers.
1. Brick's in love with Mia, though she is oblivious to his existance.
2. She may need glasses, because she has seen Brick, but never knew he was there. Unfortunately, she cares too much about her looks, and never accepts glasses.
Ad blocker interference detected!
Wikia is a free-to-use site that makes money from advertising. We have a modified experience for viewers using ad blockers

Wikia is not accessible if you've made further modifications. Remove the custom ad blocker rule(s) and the page will load as expected.