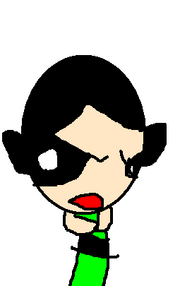 Stop it Rigth There! This Charcter Belongs to. Please ask them before editing or else you will be blocked and if you contuine its punshin time
cute Nice and Lovable little girls ready to figth crime!
the PSG now have there on TV seris! it takes place in summer where the they have to stop people doing stuff there not suppose too! they first appear in "a tougth puff girl story" (Fake) They are always active. They Never figth there always cool with each other.They are stronger than any power puff ever!there made of salt,pepper and everthing adorable. members are

Bella, Ball and bennet
There all smart Girly Girls
Bella the leader: Smart, Sweet and always Shy. she is 5 years old. she hates berserk and is out to kill her.Her presaent life today is with Docter.Punchtioum and her 2 sisters.
Ball the Cute: Smart, lovable and is foucesed at all times. She is 5 years old too. She is always destroying evil with her huge big bouncy ball.Her presaent life today is with Docter.Punchtioum and her 2 sisters.
bennet the Tougth:
Smart,crazy and tough she is 5 years old like her other sisters.She is Dateing Bucth and is
See What Happens:
Backround Info
Edit
There are the strongest Power puffs ever made
there the cool pool girls friends
they have no punk versions
thre the power puff girls BFF's
Ad blocker interference detected!
Wikia is a free-to-use site that makes money from advertising. We have a modified experience for viewers using ad blockers

Wikia is not accessible if you've made further modifications. Remove the custom ad blocker rule(s) and the page will load as expected.