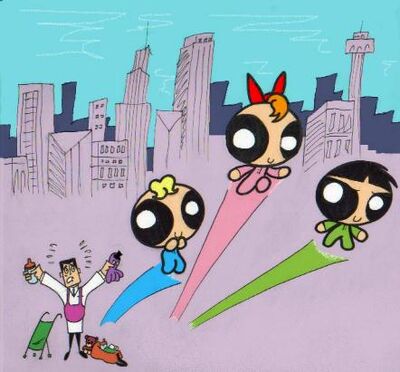 The Powerpuff Babies!

Created by

Craig McCracken

Lauren Faust

Directed by

Craig McCracken

Genndy Tartakovsky

Voices of

See Cast section

Composer(s)

Patric Caird

John Debney

James L. Venable

Country of origin

United States

Canada

Production company(s)

Cartoon Network Studios

Rough Draft Studios (animation)

Klasky-Csupo (animation; title sequence)

Original channel(s)

Cartoon Network
"
The Powerpuff Babies!
" is a fan-made Canadian-American animated TV series about the Powerpuff Girls created as babies instead of little girls.
It has the same characters as the original series. All the villains have been aged down to babies and toddlers like the Powerpuff Girls. Being a babyfication spin off to the original show, it is depicted as an amalgamation between the original show, Muppet Babies and Baby Looney Tunes.
See the complete list of "The Powerpuff Babies!" Episodes here.
Just like Ed, Edd n Eddy, Baby Looney Tunes and Tom and Jerry Tales, the show's cast is composed of Canadian voice actors and actresses instead of an American cast.
Ad blocker interference detected!
Wikia is a free-to-use site that makes money from advertising. We have a modified experience for viewers using ad blockers

Wikia is not accessible if you've made further modifications. Remove the custom ad blocker rule(s) and the page will load as expected.