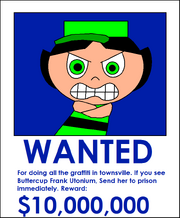 Buttercup has to take blame for all crimes hapening in Townsville today. All of the villains are doing serious graffiti and the drawing posters saying "Buttercup WANTED for doing all the graffiti in townsville." Buttercup tried to tell the folks, including her sisters that she did not do it, but no one believed her, except the Rowdyruff boys. The Rowdyruff boys (Even though they may be evil) are actually on Buttercup's side for once.
Ad blocker interference detected!
Wikia is a free-to-use site that makes money from advertising. We have a modified experience for viewers using ad blockers

Wikia is not accessible if you've made further modifications. Remove the custom ad blocker rule(s) and the page will load as expected.